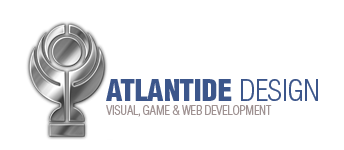 ABOUT

Atlantide is a new media design studio

founded in 1998 by Alessandro Di Michele

an early hours web developer from Italy

We are focused in creating clean, fun, vibrant and interactive web sites, games and applications.

Our mission is to merge togheter the old good way to communicate with the possibilities offered by the new entertainement technologies and by the social experience, so to vehiculate your message in the smartest, most original and effective way.

ABOUT

Alessandro Di Michele

Art Director & Head Developer

Alessandro Di Michele is an art director and lead developer who has worked in the industry for over a decade.
He specializes in project management, application and game developement, visual design, information architecture and user research.
Alessandro has created experiences for many companies including Il Sole 24 Ore, Toyota, Admiral, Nintendo, Acer.
Born in 1974, he lives and plays in Tagliacozzo, with its wonderful wife and son.

ABOUT

Alessandro Di Michele - Art Director & Head Developer

Skills

MANAGEMENT

PROJECT AND TIME MANAGEMENT
SOFTWARE & DATABASE ENGINEERING
INFORMATION ARCHITECTURE
PROBLEM SOLVING
INNOVATING SOLUTIONS

DESIGN & COMMUNICATION

VISUAL & WEB DESIGN
ILLUSTRATION
DIGITAL PUBLISHING

CREATIVITY & COPYWRITING
IDENTITY, ADVERTISING
PUBLIC COMMUNICATION

MULTIMEDIA, PHOTOGRAPHY
VIDEO PRODUCTION &
POST PRODUCTION
3D MODELLING & ANIMATION

CONSULTANCY
TRAINING & E-LEARNING

DEVELOPMENT

OOP, 3D, AI, GAME, GRAPHICS,
ANIMATION, REALTIME PHYSICS &
MOBILE PROGRAMMING

CLIENT/BROWSER DEVELOPEMENT
SERVER SIDE DEVELOPEMENT
USER INTERFACE, EXPERIENCE &
INTERACTION DESIGN
CMS DEVELOPMENT & INTEGRATION
USABILITY & ACCESSIBILITY

ADOBE FLASH PLATFORM

IMAGE, VIDEO & AUDIO
PROCESSING AND STREAMING,
WEBCAM, AUGMENTED REALITY,
3D TRACKING, MOTION/FACIAL
CAPTURE/DETECTION

GESTURE & TOUCH RECOGNITION,
ACCELEROMETER, GPS / MAPS
TEXT FRAMEWORK, PDF GENERATION
CODE GENERATION, FILESYSTEM,
COMPRESSION, ENCRYPMENT

DATA IMPORT/EXPORT
INTEGRATION WITH HTML/JS,
NETWORK, P2P, WEB/HTTP SERVICES,
THIRD PARTY SOFTWARE,
MEDIA/INTERACTION SERVER
LABZ

Welcome to our laboratory

Here you will find a lot of Experiments done in Flash Technology during years.

Feel free to contact us if you are interested in something.

LABZ

VIRTEATRO

Reserve your virtual seat!

» TRY VIRTEATRO ONLINE

If you are interested for including in your application, or for any other info, don't hesitate to contact us.
EMAIL

Contact us

Fill out and send the form

to get in touch with us.

Alessandro Di Michele
Atlantide Design
P.IVA: IT01471720662
CCIAA: AQ-558/99 CDFE: BA6ET11